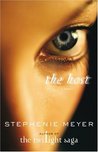 The Host
by
Stephenie Meyer
My rating:
4 of 5 stars
Sum it up in a sentence (or two):
Alien parasites control humans (and Earth); a small population of alien-free humans tries to survive. Melanie Stryder, stubborn human, messes up the status quo.
First thoughts while reading:
I'm interested in the story (plot), but WHY must the protagonist be 17 when she meets her man? In a book for adults (like the jacket cover specifically states that), could we maybe get an adult relationship featuring adults? I get that in the present action of the story she's in her twenties, but what is it with Stephenie Meyer and minors/older dudes?
More thoughts/questions for the author while reading:
What is with Stephenie Meyer and men holding women while running? As the story goes on I can get past the age difference (especially when Melanie is actually Wanderer, but then we have a whole other age dynamic happening).
The Host reminds me of:
Divergent
the
Hunger Games
series
the
Ender
series
Things I would change:
besides character ages, a lot of the fluffy dialogue could be cut from this to make it a tighter story. Things like the random soccer game felt forced and dragged on when there were more important things happening.
Recommended for:
my boyfriend (a big reason this book gets four stars, besides that I just plain enjoyed the story, is that I'm making Jesus read it), fans of other books set in post-apocalyptic utopias/dystopias, scientists, aliens.
Final thoughts:
a good/hopeful ending. I'm glad it didn't feel contrived. I would watch the movie.
View all my reviews